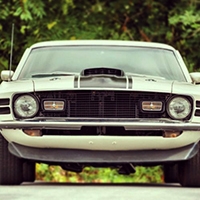 Budget for your Mustang restoration with these money-wise tips
Congratulations. You have a classic Mustang and are thinking about restoring it. Now, what's it going to cost you?
Any budget for a Mustang restoration must take in costs you won't find in a catalog. You can tally the money you will need to outlay for Mustang aftermarket parts by working your way through a comprehensive online store, and adding parts plus their costs to your budget spreadsheet.
Let's talk about a few big buck projects before getting to the affordable.
A quality paint job can easily run into the thousands of dollars, rivaling what you might spend for an engine overhaul. Today, good paint is better done than when Ford was producing Mustangs by the thousands each week. Back then, overspray was common and you could often see it when you raised the hood, usually around the edges of the engine bay. It was so common, in fact, that many auto show judges today will want to see overspray marks as part of a period restoration. Imagine that, a newly restored Mustang, with a defect as part of the project.
Another high dollar item is the rag top, if you are lucky enough to own a convertible. A new top can run into the thousands when counting materials and labor. And this isn't something you can do on your own the first time. It takes a real craftsman to put all the parts together and to stretch the material correctly. Getting this job installed in a rain proof fashion is a job for a real pro.
~
Now that we've looked at two of the biggest unexpected costs, we can concentrate on the more affordable items. The good news is that the Mustang world is populated by aftermarket components galore. There's an entire industry that keeps old Mustangs going, so used parts, and newly made reproductions, are almost always easy to find. It gets better. Unless you insist on a period restoration, you can get by with aftermarket parts and not spend on original ones. Today's manufacturing processes turn out parts that often have better tolerances and metallurgy than the components of yesterday. And they are new, so you don't have to drive a car down the road with fifty year old parts.
Safety items come first, so you should budget adequately for new tires and for an overhaul of the braking system. Speaking of which, if you plan to increase power with an engine upgrade, think about how that will affect everything else. More power means you'll need a stronger suspension, better shocks, and, yes, better brakes. 1960's Mustangs, like most of their contemporaries, were great for going in a straight line. But they usually lacked in the handling department, which is something to consider when you start spending money. A restomod restoration is usually the way to go, an approach that keeps your cars look and style, while upgrading the components that make it run.
After safety items, you might want to replace the wear items that are on every car. These are "must dos." New rubber hoses, a new battery, new fluids and filters, all the way around, are something you should prioritize on before spending for that period stereo system. Priorities. You may want to hire a mechanic or a Mustang specialist at the beginning of your ownership to inspect your car from end to end. They can give you a list of what needs doing most, so you'll better know what to expect. Any budget for a Mustang restoration should be realistic. Rely on experience. And there's another way to gain that wisdom.
Joining one of the many Mustang clubs is an inexpensive way to get introduced to the hobby. Or obsession, as most of their members will admit. Besides club rides and tours, members will know about what to best budget for and they'll eagerly share their experiences on how they restored their 'Stangs. Good luck with your project and your new pony.