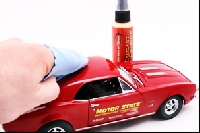 Tips for cleaning and properly displaying diecast models and collectibles
Die-cast models and replicas rank as some of the most collectible items of all time. Why is this? Collectors emphasize that die-cast models are fun and entertaining, but that they also offer educational history lessons, something very unique from other collectibles. Caring for diecast collectibles is an important part of being a serious collector.
Diecast models that are replicas of vintage machines such as automobiles, trains, planes, ships, submarines, trucks, motorcycles, helicopters, even farm equipment and wartime battle machines can provide a glimpse into certain time periods and the cultures, that collectors often associate with meaningful life memories and events. It is important to know about caring for diecast collectibles to preserve the beauty and value of a carefully compiled miniature collection.
Diecast models were first produced in the early 1900's by the British toy industry. Manufacturers such as Meccano (Dinky Toys) in the United Kingdom and later Dowst Brothers (Tootsie Toys) in the United States, produced early models featuring simple metal bodies with minimal decor. Today, however, diecast collectibles are built to precise scale, and embellished with colors, interior decor and etched details.
Some of the most popular, contemporary brands of diecast collectibles include Altaya, Bandai, Brooklin, CMC, Dragon Wings, Exoto, Guisval, Lightning, Kyosho, Lledo, Matchbox, Minichamps, Norev, Plasticos Argentinos, Racing Champions, RCCA, Revell, Tekno, Tomica, UT Models, Vitesse, and the popular Hot Wheels that was introduced by Mattel in 1968. Many diecast items, particularly rare early pieces are highly valuable.
Any serious collector will agree that caring for diecast collectibles properly is the most important part of owning these models. Treating models and collections as fine art, and making a point to elegantly display these items where they can be enjoyed as decor, and positioned as educational conversation pieces for friends and family members is key.
~
If you own vintage models that are stored away in boxes or attics, make a point of caring for diecast collectibles the right way by cleaning them, dusting them and displaying them in curio cabinets or other specialized display tables, cabinets or furniture varieties featuring glass doors and lighting. Preventing damage from handling, sun exposure, dust and mildew are some of the best ways to preserve your investment in collectibles. Look for air tight cabinets, or curio cabinets that have a tight seal to keep out any dust or dirt.
Diecast replicas can be cleaned with warm soapy water and a soft cloth. When caring for die-cast collectibles with cleaning products, strong solvents or alcohol based cleaning products should be avoided as these can dissolve paint and cause colors to fade.  
Dust, or dirt on the interior crevices or hard to reach areas of a model vehicle can be cleaned with a damp Q-tip. Once your diecast model is clean and dry, polishing the exterior with a small amount of car polish is recommended. This will help to keep your model looking new, bright and shiny, will help to preserve the pain, and will prevent dust and dirt from adhering to any surfaces.
Ultimately, collecting diecast collectibles is an educational activity that can be enjoyed by young and old generations alike. Whether you are searching for your favorite muscle cars or dream cars, or  memorable vehicles from important time periods in history, diecast models make ideal gifts, and inspirational hobbies.
Resources:
Cleaning diecast collectibles and plastic models
Diecast Hygiene