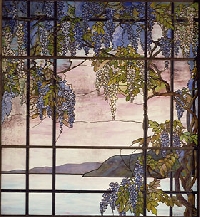 Five famous stained glass artists who created distinctive works
Stained glass artists are a unique breed. The nature of their work demands aesthetic appeal, as well as consideration for effects and composition of the stained glass, which is often illuminated by the sun. Not to mention structure; stained glass window artists must build a design strong enough to withstand weather and support its own weight.
As a thousand-year old craft, a number of famous artists have made a name for themselves in stained glass. Popular motifs include mythology, history, literature and religion. Often commissioned by institutions, governments, churches or art collectors, stained glass is most often used in windows, lamps, mosaics and three-dimensional sculptures.

Famous Stained Glass Artists

* William Morris 1834-1896
English poet, textile designer and multifaceted Arts and Crafts artist William Morris is often credited for revolutionizing Victorian taste. He founded Morris, Marshall, Faulkner&Co., a firm of artists who shared his philosophy that decoration down to the smallest detail was an art.
Famous works of stained glass by Morris&Company: ?David?s Charge to Solomon? (1882) with Edward Burne-Jones at Trinity Church in Boston, Massachusetts and ?Angel Holding the Sun? at St. James?s Church in England.
~
* Harry Clarke (1889-1931)
Born in Dublin, Harry Clarke was a famous stained glass artist and illustrator known for his work in the Irish Arts and Crafts movement. Recognized for his use of rich colors, particularly blues, he produced nearly 150 secular and religious stained glass works during his short life.
Famous works of stained glass by Harry Clarke include literary designs like illustration of John Keats? The Eye of St. Agnes in the High Lane Municipal Gallery in Dublin, as well as ?The Eve of St. Agnes? (1924).
* Louis Comfort Tiffany (1848 -1933)
Perhaps one of the most recognizable names in stained glass history; Louis Comfort Tiffany, the Tiffany Studio?s namesake, was an American artist involved in the Art Nouveau movement. He designed windows, lamps and glass mosaics, though best known at the time for his work in the Mark Twain House in Hartford, Connecticut and an 1882 White House commission by President Alan Arthur.
Famous for the lamps his studios produced, Tiffany is also known for stained glass windows including John the Baptiste at Arlington Street Church in Boston, Massachusetts.
* Marc Chagall (1887 ? 1985)
French-Russian artist Marc Chagall was one of the most successful artists in the 20th Century. A highly respected figurative painted, Chagall worked in a variety of mediums. His stained glass windows are distinct for their bold, intense colors. The visual affects of his stained glass windows appear to change depending on the time of day they are viewed and the position of the viewer.
Chagall created windows for the synagogue of Hebrew University?s medical center in Jerusalem and a window called ?Peace? for the United Nations (1964).

*John La Farge (1835 ? 1910)
John La Farge brought inventive resourcefulness to his stained glass art. A famous American painter, he used opalescent glass and superimposed and welded material onto his work. The result was a body of ornate masterpieces that are often compared to Medieval stained glass windows. His innovations also added new resources for stained glass artists to utilize.
Famous stained glass windows by La Farge include the windows at St. Paul?s Chapel at Columbia University in New York City and windows at the Biltmore Estate in Asheville, North Carolina.
It?s no coincidence that some of the most famous stained glass artists were born prior to the industrial revolution, as the Victorian Era came to an end and artists threw themselves into the innovative spirit of Art Nouveau and Art Deco.
References:
American Glass Guild
Stained Glass News