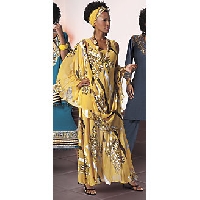 Ethnic fashion is inspired by the culture where it originates
What is ethnic fashion? It is fashion that embraces and represents a culture and allows one to celebrate her heritage and origin.
Ethnic means that something shares the distinctive cultural traits of a group in society. It relates to a group that shares a racial, national, religious, linguistic or religious heritage, regardless of whether the wearer still lives in her country of origin. Ethnicity is the traditional culture of a social group.
When you dress to reflect your ethnicity, you are celebrating who you are and expressing your cultural roots.
Of course, you don?t have to be, for example, an Eastern Indian to dress like one. Those who travel to other countries often find themselves smitten with the fashion of a particular country and are eager to don it themselves because it is so compelling and so very different from what they normally wear.
One of the most beautiful forms of ethnic fashion is Native American clothing that often features bead work designs as well as gloriously pretty shawls that can be worn as an evening wrap or as a dance shawl or apron, which was the original purpose of this item. Amp up your look by wearing Native American jewelry that features turquoise, silver, feathers and lots of bold color. 
~
Those visiting Africa or any country where the Afro-centric culture is present will discover that liberal use of color and patterns are incorporated into the dashikis, caftans and mud cloth prints that are linked with this particular culture. Afro-centric clothing is known for its inspired patterns, fabrics and designs that are generally quite comfortable and excellent clothing for your leisure time when you just want to kick back and relax. 
Those fashionistas that love channeling the Renaissance era or those who are Wiccans or pagans and want to dress the part can find beautiful ethnic apparel that harkens to times gone by as well as speaks to the religious or cultural beliefs of some people. 
Lovers of nature enjoy celebrating such nature events as the solstice so you need to dress accordingly. Are you in love with Nicole Kidman as she appeared in the movie Moulin Rouge, which represented the Belle Epoch era? Yes, you can dress the part. There are fashion items that can transport you from your ordinary self to anything you want to be for the day or the night, including a damsel in distress or a vixeny wench. 
Maybe you?re simply a gal who loves the boho, hippie chic look, which conjures up images of the Summer of Love (1969) and Woodstock. It?s fun to dress in swirling colorful skirts and velvet jackets. Even though you?re a Wall Street broker by day, there are no rules that say you can?t be celestial or fairy-like by indulging in ethnic fashion on the weekends. Yes, you can transform yourself into a Goddess on Saturday night by wearing the appropriate clothing and, of course, having the right Goddess-like attitude.
If your very favorite look is Indian or hippie-inspired you can grab up cool retro garb at an affordable price. Embellish your look with fabulous peacock feather earrings and a belt that is constructed out of Peruvian wool, hand embroidered, featuring flowers and color rich leaves. Wear the peacock earrings and the beautiful wool belt with a very ordinary outfit and suddenly it is transformed to high fashion.
Halloween is the perfect time to assume an ethnicity that you find intriguing and want to take on for the night. Slip into a Egyptian jewel-laden sheath or a belly-dancer costume.
Ethnic fashion is a celebration of your origins, your beliefs and your customs. Embrace it.